Whatever course you choose to study, college life can be an exciting mix of learning and socialising. You will have more opportunity to branch out and try new things, like sports or hobbies.
However you decide to spend your time, the Sixth Form College is here to help you make the most of student life. It's just up to you to get involved…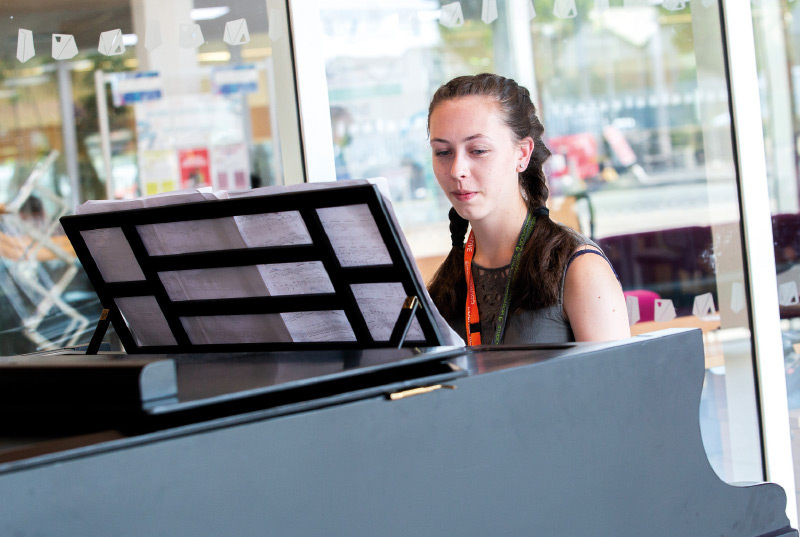 Futures Programme
Our elite Futures Programme will provide students with unique opportunities and bespoke support to ensure that you achieve your maximum potential. As a member of the programme you will receive the best possible preparation for progressing onto competitive degree courses, apprenticeship training or into employment. This innovative programme will run parallel to your core programme of study and will consist of a varied selection of activities
High Achievers Programme
Aiming to study at top universities including Oxford and Cambridge? We offer specialist support for students aspiring to study at prestigious UK and international universities. Designed by Oxbridge graduates, this programme includes: a lecture series delivered by leading academics, residential visits to Oxford, Cambridge and other Russell Group Universities and mock interviews.
Going Global
The Sixth Form College also offers students a comprehensive range of UK and overseas visits, allowing our students to experience a whole world of opportunities and cultures by taking part in overseas visits including trips to Washington, Munich, Poland and Gambia (just to name a few).
Student Voice
We put the students at the centre of what we do at the Sixth Form College which means that students have a genuine voice and are consulted on all aspects of their college experience. With annual Student Governor elections, an active Student Parliament and a team of Course Representatives, there are many ways to get your voice heard! We also conduct regular questionnaires to gather students' views, and report back to students on what has or hasn't been done via 'You Said We Did' messages on MySFC and screens around the college.
Course Representatives
Each course elects two student representatives at the start of the academic year. Their role is to listen to the views of the students on the course and feedback the student voice to staff during subject meetings throughout the year.
Student Parliament
The Student Parliament is a meeting of all the Course Representatives from across the College. The Student Parliament is led by the Student Governors and discussed key matters raised at subject meetings, and any other matters related to College life. The Student Parliament is very influential and often takes action to address suggestions raised by the student body.
Student Governors
Every year the college elects two Student Governors to represent them on the Local Governing Body. Student Governors work closely with Course Reps and ensure that there is a strong link between the student body and the college decision makers.
Student Ambassadors
As a Student Ambassador, you can take a lead on college-wide projects which may include: social media, community and school engagement, social enterprise, environmental issues, cultural and health topics as well as acting as ambassadors for the college during events such as open evenings.
Clubs and Societies
Many of our clubs and societies are run by students for students. You may wish to join many of the college societies on offer such as:
Creative Writing Society
Current Affairs
Debating Society
International Society
Let's Connect
Musical Theatre Society
Pride (LGBTQ) Society
Society of Change
Art Magazine
Chess Club
Or create one of your own!
Music
Students who wish to perform and showcase their musical talents can do so by taking part in college productions throughout the year or by taking to the second floor balcony during a lunch break to entertain the college community. You can also get involved by joining the college Samba Band.
Clubs and Societies
Sports and enrichment activities give you the chance to do something extra with your time at College and have fun while you learn! A range of different opportunities are set up during the year so you have the chance to continue with your favourite sport or hobby or perhaps try something completely new.
Enrichment activities are a great way to meet other students who are not on your course, and as well as aiding your personal development, they will help you to relax and enjoy your time at college. Regardless of your ability, you can join in with:
Skiing
Horse riding
Archery
Climbing
Lunchtime Football/Futsal
Rugby
Volleyball
Table Tennis
Badminton
And much more!
The Talented Athlete Programme is for students who would like to represent the college in their field of sport. This programme is delivered by professional coaches with training on your timetable and fixtures on a Wednesday afternoon. We have Talented Athlete Programmes in:
Football (Male and Female)
Basketball
Netball
Our Junior Elite Scholarship Programme, in partnership with Staffordshire University, is for students who participate in any sport at county standard or above. Benefits include free gym membership at Staffs University gym and expert workshops on topics such as sport psychology, nutrition and strength and conditioning