Course Overview
A graphic designer is a communicator: someone who takes ideas and gives them visual form so that others can understand them.
This course is particularly aimed at students with imaginative ideas, strong art and design skills and the ambition to progress to an art college degree course or a career in a graphic design-related industry. The course comprises a mixture of core and professional specialist units which allow for a wide range of experiences in different aspects of graphic design including branding, packaging, editorial design, advertising, website design, illustration, and promotional materials such as portfolio building and use of social media
You will participate in live projects based on realistic workplace situations, working alongside professional practitioners from the graphic design industry. The course has been carefully designed to encourage an experimental approach to graphic problem solving while developing research skills, critical understanding and the ability to produce high quality creative graphic outcomes.
On the successful completion of your qualification, you will be awarded a Level 3 BTEC National Diploma in Art & Design.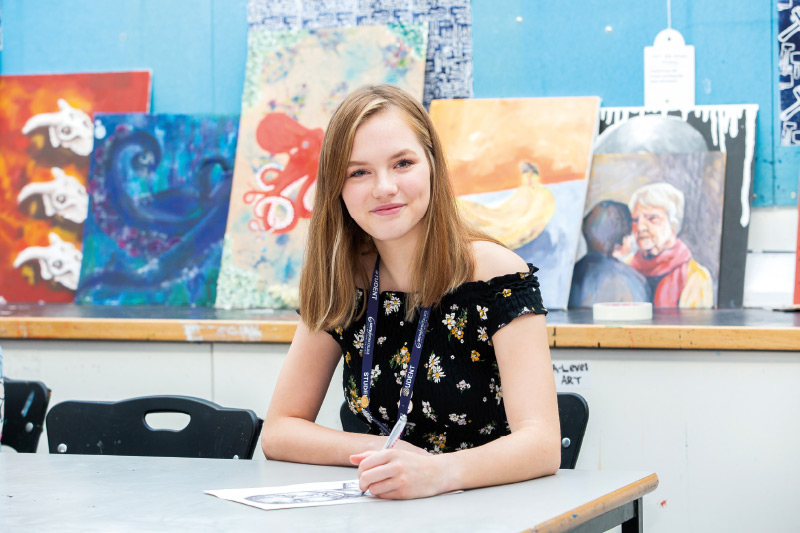 Qualifications Available
BTEC Diploma (equivalent to 2 A-Levels)
Course Topics
Typography and Typographical Design
Graphics Materials Techniques and Processes
Branding in Graphic Design
Graphic Illustration
Photography Skills
Graphics for 3D – Packaging and Information Graphics
Developing and Realising Creative Ideas and Intentions
Managing a Client Brief
Creative Portfolio
Editorial Design
Course Features
This is a practical work-related course which you will learn by completing live projects that are based on realistic workplace situations, activities and demands.
You will be taught how to undertake ambitious graphic tasks offering you the possibility of exploring a broad range of media, techniques and processes.
You will be given the chance to work alongside professional practitioners and share their experiences of the graphic design industry.
By studying this course you will develop a broad based portfolio of work suitable for progression into Higher Education or employment.
ASSESSMENT
Coursework – 54%
Controlled Assessment – 46%
Awarding Body: Pearson Edexcel
Where Courses Become Careers
The creative and media industries combined make one of the fastest growing sectors in the UK economy. Employers are desperately looking for imaginative people with a broad and flexible skills base, and the BTEC Graphic Design programme will provide you with many of the appropriate professional skills suitable for progression into employment or higher education.
You can progress to careers in the graphic design industry such as Advertising, Editorial Design, Packaging Design, Photography, Corporate Design or Illustration.
Make your mark
How SFC will help you to boost your CV by developing your skills and qualifications…
This course has a strong 'skills' focus, developing not only your practical and creative skills, but also the employability skills essential for progression into the Creative Industries. You will complete 'Live' projects with an applied vocational scenario regularly working with experts from the creative industries. You will evidence and enhance the Stoke6th Graduate Attributes through their use on this course.