Outstanding students celebrated at the City of Stoke-on-Trent Sixth Form College largest ever awards ceremony.
The City of Stoke-on-Trent Sixth Form College celebrated more student success than ever, increasing the number of awards and grandeur of their annual Prize Presentation Evening, honouring the achievements and hard work of over 200 prize-winning students and staff. 
The awards, held at the Kings Hall in Stoke on Wednesday 29th March, highlighted students with an array of impressive talents and skills, aspiring to become everything from solicitors to accountants, nurses, and designers.  
The Sixth Form College is incredibly pleased to see students continuing to achieve such academic accolades and able to reach their full potential with guidance from teaching and support staff and specialist programmes such as the High Achievers Programme.  
First-year student, Hope Mkandawire who has cerebral palsy and faces a physical daily challenge won the award for Going The Extra Mile in A Level Media Studies. Hope commented,
I feel proud and excited to receive an award and I would like to thank Dianne Taggart who has given me support, assisting me through any problems that I faced. After college I intend to go to university."  
Second-year student, Jax Pickerill who has won an award for extraordinary contributions to college in the Extended Project Qualification said,
I can't express enough how grateful and appreciative I am of this award, as my EPQ was quite the challenge, considering it was entirely independent and required me to manage my time effectively and motivate myself on a regular basis; in order to reach the final product Thank you to Teacher of English, Lucy Twigg for going above and beyond in not only supervising my EPQ, but for also going that extra step to get to know me as an individual and really care about my wellbeing."
Another award winner, Second-year student Saba Sherafat picked up two awards in the overcoming adversity and principal prizes categories. Saba moved to the UK in 2019 and joined the college as a foundation student to gain her GCSE's and quickly moved onto success at A Levels. Saba said,
I'm glad that my hard work is paying off. I would like to thank STEM teaching staff: Mathew Addie, David Parry and Martin Walley for always help me when I needed it the most."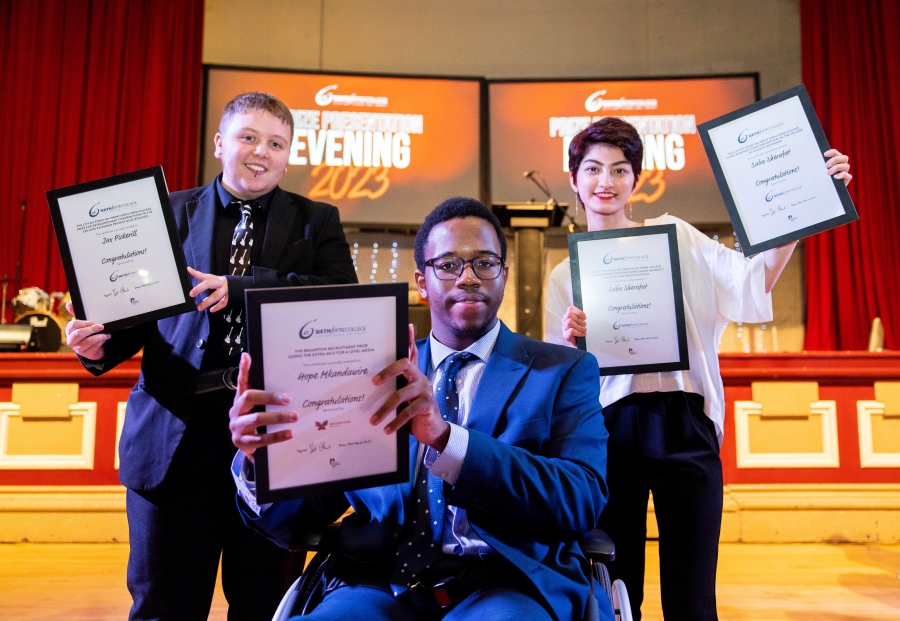 The ceremony was attended by guests including students, proud parents, representatives from local business and community groups. VIP guests in attendance included the Deputy Lord Mayor, Lesley Adams. The event featured 198 staff and student awards, with over 32 sponsored by leading educational establishments and employers. 
Guest speaker, Susannah Townsend MBE OLY, Olympic gold medalist hockey player and popular public speaker, opened the evening with an engaging and highly motivational speech using her own experience to promote the importance of diversity, building effective teams, nurturing talent, and combatting unconscious bias. 
Compering the ceremony was teacher of Biology, Author and Comedian Pete Kermally, joined by a first-year student compere, Amy Keen-Wicks. 
Students who run the college tea and baking societies also sold a variety of specialty tea/coffee and homemade bakes. The profits made were donated to Türkiye and Syria. 
Students performed at various intervals during the ceremony to entertain guests. The performances consisted of a group dance, college band, a male acoustic singer, and the Musical Theatre Society. 
The evening was thoroughly enjoyed by student winners and their supporters along with sponsors, stakeholders and staff.