Course Overview
This course is particularly aimed at students with a strong interest in Art and Design and the ambition to progress to further study in the subject. It provides students with a wide range of stimulating and creative opportunities to explore their interests in ways that are both personally relevant and developmental in nature. 
The course encourages students to build creative skills through learning and doing, and to develop imaginative and intuitive ways of working. It will help students to develop a broad knowledge and understanding of media, materials and technologies in different historical and contemporary contexts.
Art & Design GCSE is made up of two units which allow for a wide range of experiences in areas such as drawing. printing, graphics, textiles, 3D, crafts and Fine Art.
Course Topics
Drawing
Painting
Mixed Media
Photography
Graphic Communication
Illustration
Textiles
Course Features
You will develop the ability to visually record experiences and ideas in a broad range of media, techniques and processes.
You will learn how to analyse, discuss and evaluate images, objects and products, making your own independent judgments.
As the course progresses you will be encouraged to develop your knowledge, skills and understanding by focusing on ideas and themes of your own choosing.
There is a strong focus on progression skills such as creativity; imagination; research; investigation and experimentation; ideas generation and independent thinking skills.
ASSESSMENT
Portfolio of work (controlled assessment): 60%
Externally Set Task: 40%
Awarding Body: AQA
Where Courses Become Careers
GCSE Art provides a strong foundation for further progression to Art and Design related 'Creative' courses and enhanced vocational and career pathways in the Creative Industries including:
3D Design
Art & Design
Design Crafts
Fine Art
Graphic Design
Multimedia
Photography
Fashion
Textiles
Make your mark
How SFC will help you to boost your CV by developing your skills and qualifications…
During this course you will be:
Working both as individuals and in collaboration with others in a range of situations.
Studying the approaches of contemporary and historical artists from different cultures and their contribution to continuity and change in society.
Developing a working vocabulary and knowledge of specialist terms relevant to chosen areas of study.
Having visits from contemporary practitioners and the opportunity to visit galleries and exhibitions.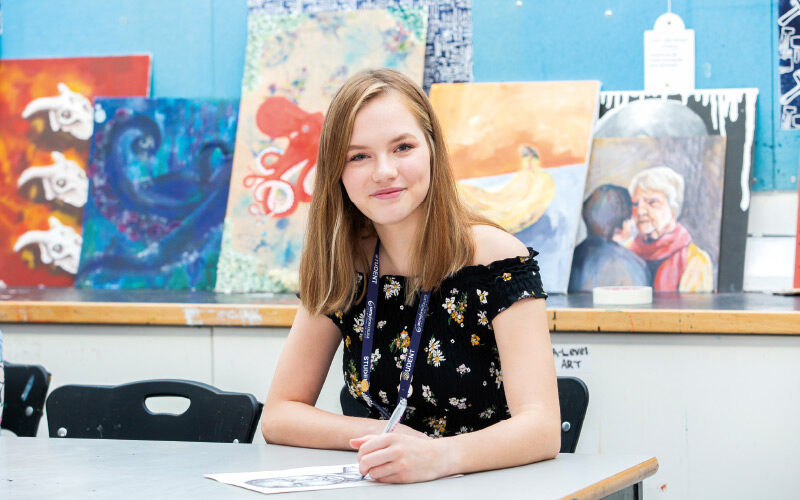 Similar

Courses
On this pathway