Course Overview
The Transition Programme is a new type of study programme, specifically designed to develop the skills, experience, knowledge and behaviours to support progression onto a Level 3 programme of study.
This programme is targeted at students who are not ready to start Level 3 but have the potential to progress onto a Level 3 programme of study following a tailored preparation programme. It is designed to support your success in achieving 4+ in both English and Maths, alongside our Transition Programme to get you ready for the Level 3 programme of study the year after.
I found this college's environment and staff to be supportive, providing me with a second chance to improve my grades. They guided me in selecting the right subjects, including GCSE Maths, and suggested the creative pathway for my future studies. Adapting quickly, I felt at ease and able to express myself freely. Whether studying at the LRC on the second floor or the Social Space on the first floor, these spaces helped me concentrate and focus on my studies. Overall, this college has been a welcoming and supportive home for my academic journey.
Zen Bhauyan
Previously: Thistley Hough Academy
Studying: Education & Creative Transition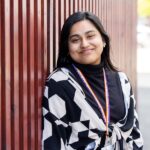 Make your mark
How SFC will help you to boost your CV by developing your skills and qualifications…
During this course you will be:
Working both as individuals and in collaboration with others in a range of situations.
Studying the approaches of contemporary and historical artists from different cultures and their contribution to continuity and change in society.
Developing a working vocabulary and knowledge of specialist terms relevant to chosen areas of study.
Having visits from contemporary practitioners and the opportunity to visit galleries and exhibitions.