Biomedical Sciences
Higher Education
Course Overview
Studying Biomedical Science is an exciting introduction to the core scientific concepts and principles that underpin the study of science at degree level. You will encounter a wide range of thought-provoking concepts whilst building a comprehensive base of scientific knowledge.

Through a combination of lectures, practical exercises and problem-solving seminars you will learn the foundations of the subject. With highly experienced staff you will cover key concepts in the areas of maths and data handling, biology, chemistry and applied science. As well as covering core content you will be given the opportunity and support to develop independent learning methods whilst learning the key skills required for progression onto further degree-level study.
Course Content
The Degree Foundation Year is made up of 6 modules comprising:
Applied Science
Biology
Chemistry
Maths and Data Handling
Academic and Digital Skills
Communicating Science Project
Everyone was very welcoming and has supported me in my studies throughout my time here. I have gained so much confidence in my abilities and have found my passion for Biomedical Sciences.
Cameron Sharp
Studied: Biomedical Sciences Degree Foundation Year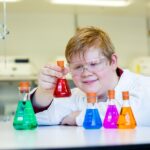 Academic Commitment
Foundation year of 4-year full-time course. 
Informed by the course content, you will be taught through a combination of lectures, practical sessions and problem-solving seminars, which will amount to approximately 20 hours per week. To support your development, you will also be expected to undertake approximately 13 hours per week of independent study.
Study & ASSESSMENT
Your progress will be assessed through exams, coursework and presentations. Teaching will take place at The City of Stoke-on-Trent Sixth Form College and laboratories in the Staffordshire University Science Centre.
Where Courses Become Careers
By successfully completing the Biomedical Science Degree Foundation Year you will progress onto level 4 of the Biomedical Science degree or onto one of Staffordshire University's other undergraduate science degree courses.  These could be:
Biological Science, with an optional pathway chosen from:


Ecology and Environmental Management
Genomics
Pharmacology
Pre-med

Forensic Science
Entry Requirements
A typical offer is 48 UCAS points, made up of Level 3 equivalent qualifications, including A Level and BTEC courses. Additionally, we welcome applications from people with a variety of qualifications, skills and experience. Each application will be assessed on their individual merits.
tuition fees
Full-time students enrolling on the Foundation year of a Degree in 2021 will pay a tuition fee of £5,950.
Levels 4–6 (Years 2–4) of the BA/BSc (Hons) will be charged at Staffordshire University's standard rate.
Apply
For more information, and to apply, visit this link and select the City of Stoke-on-Trent Sixth Form College option.