Sport & Exercise Science
Higher Education
Course Overview
Sports Science is a growing industry with various specialisms that athletes and sports clubs now utilise to boost performance. Do you want to be involved in a career in which marginal gains are the difference between winning and losing? 
This Foundation Year will give you the knowledge and skills essential to successfully transition to the BSc (Hons) Sport and Exercise Science.
Throughout the BSc (Hons) course, you will be working in sport, and/or within a healthcare context, you'll use Staffordshire University's first-class facilities for analysing sporting performance – and you'll develop a critical understanding of key areas in sport and exercise science, such as physiology, psychology, and biomechanics. The University has invested over half a million pounds on updating and building new sport and exercise laboratories, to provide state-of-the-art facilities for your learning.

The BSc (Hons) Sport and Exercise Science course is endorsed by the British Association of Sport and Exercise (BASES), although does not currently include the new strength and conditioning pathway.
Course Content
The Sport and Exercise Science Foundation Year is made up of four modules:
Coaching in the Community
Injuries and Rehabilitation
Investigating Physical Activity and Sport
Sport and Exercise Science (including Sport Psychology)
After taking a gap year, I felt ready to return to education but wasn't sure what course was best for me. That's when I found out about the Sport and Exercise Science Degree Foundation Year. Studying at the Sixth Form has been a great experience, the facilities are amazing and I have developed so many new skills which will help me in my undergraduate studies. 
Evieleigh Smith
Studied: Sport & Exercise Science Degree Foundation Year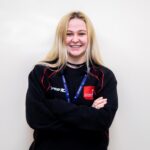 Academic Commitment
Foundation year of 4-year full-time course. 
Teaching will take place at the City of Stoke-on-Trent Sixth Form College and Staffordshire University's main campus and sports facilities, which will amount to 13.5 hours per week.
You will also be expected and encouraged to complete 23 hours of independent study each week.
Study & ASSESSMENT
To cover the diverse content of this course and to give you a thorough basis of sports knowledge, you will be taught through lectures, seminars and group work.
You will be assessed through a variety of different formats, this includes presentations, practical coaching and written assignments.
Where Courses Become Careers
The successful completion of the Sports and Exercise Science Foundation Year will enable you to progress onto a number of undergraduate degree programmes at Staffordshire University.
Potential courses include:
Sport and Exercise Science
Sports Coaching
PE and Youth Sports Coaching
Sports Therapy
Entry Requirements
A typical offer is 48 UCAS points, made up of Level 3 equivalent qualifications, including A Level and BTEC courses. Additionally, we welcome applications from people with a variety of qualifications, skills and experience. Each application will be assessed on their individual merits.
Entry Requirements
Full-time students enrolling on the Foundation year of a Degree in 2021 will pay a tuition fee of £5,950.
Levels 4–6 (Years 2–4) of the BA/BSc (Hons) will be charged at Staffordshire University's standard rate.
Apply
For more information, and to apply, visit this link and select the City of Stoke-on-Trent Sixth Form College option.