Higher Education
BSC (Hons), with a foundation year
Course Overview
The course will help you learn how to investigate and analyse how humans think, feel and behave.
Psychology is concerned with understanding all aspects of human behaviour and a person's underlying thoughts, feelings and motivations.
Throughout the Foundation Year, you will develop problem-solving, communication and interpersonal skills whilst exploring concepts integral to the study of Psychology. The course is taught using a variety of methods including lectures and seminars.

The foundation year course has a long track record of success in providing a smooth transition to the BSc (Hons) Psychology degree at Staffordshire University or any one of the other psychology undergraduate courses.
Course Content
The Psychology Foundation Year is made up of three modules:
The Science of Human Behaviour
Typical and Atypical Behaviour
Humans – Nature and Nurture
Testimonials
Returning to education was a big decision, but I am so glad to have made it. I was very anxious at the beginning of the course, but the amazing staff and fellow students put me at ease. The Psychology Foundation Year is fascinating, every lecture is different and you are guaranteed to learn something new and interesting each time.
Lisa Kyte
Studied: Psychology Degree Foundation Year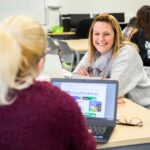 Academic Commitment
Foundation year of 4-year full-time course. 
Teaching will take place at the City of Stoke-on-Trent Sixth Form College and amounts to 13.5 hours per week. To support your development, you will also be expected to undertake 23 hours, per week, of independent study.
Study & ASSESSMENT
A variety of teaching and learning methods are employed to deliver the course, which include lectures, seminars, tutorials and group based work.
You will be assessed via a number of means including: formal essays, class tests, coursework, presentations and examinations. Through varied forms of assessment you will demonstrate your strengths and abilities.
Where Courses Become Careers
Once you have successfully completed the Psychology Foundation Year you will progress onto one of a number of undergraduate degree programmes at Staffordshire University. Course options include:
Psychology
Psychology and Child Development
Psychology and Counselling
Forensic and Criminological Psychology
* Subject to validation
Entry Requirements
A typical Psychology with a Foundation Year student will have 48 UCAS points, made up of Level 3 equivalent qualifications, including A Level and BTEC courses. However, we welcome applications from people with a variety of qualifications, skills and experience. Each application will be assessed on their individual merits.
tuition fees
Full-time students enrolling on the Foundation year of a Degree in 2022 will pay a tuition fee of £5,950.
Levels 4–6 (Years 2–4) of the BA/BSc (Hons) will be charged at Staffordshire University's standard rate.
Apply
For more information, and to apply, visit this link and select the City of Stoke-on-Trent Sixth Form College option.