Course Overview
The Business BTEC is a practical, work-related course. You will take considerable responsibility for investigating and completing projects based on realistic work situations.
This is a very useful course for you if you wish to enter the business world or eventually run your own business. You will learn why organisations such as Tesco and Microsoft are so successful and how organisations respond to a variety of external pressures.
Qualifications Available
BTEC Diploma (equivalent to 2 A-Levels)
Course Topics
Exploring business
Developing a marketing campaign
Personal business finance
Recruitment and Selection
Investigating Customer Service
Course Features
Not only will you become a strategic thinker you will become a shaper and influencer.
Challenging and inspiring classroom activities.
No matter what you do in the future, you will work in a business organisation and an A level in business will help you.
ASSESSMENT
Combination of exam, externally moderated assessment and internally moderated coursework.
Awarding Body: Pearson Edexcel
Where Courses Become Careers
You can progress onto business related degrees at well-respected universities and potential career paths include junior management in a wide range of industries as well as careers related to Sales and Marketing, Retail, Logistics and Operations Management.
The course is equivalent to 2 A levels and is ideal if you prefer project work and like coursework.
Make your mark
How SFC will help you to boost your CV by developing your skills and qualifications…
This course utilises a wide range of assessment styles which complement and
enhance the Stoke6th Graduate attributes. Participation in role plays, videos, and presentations will develop your creativity and communication skills. Report writing and creating business pitches will hone your problem solving skills and your
independence of thought. Through regular class discussions and group work you will learn to respect the views of others and how to effectively work as part of a team.
You will study some local, national and global businesses. Furthermore you will be given opportunities to set up your own business and work on enterprise challenges which support your development. In the second year you will be able to manage a business event for the College.
We have many links with Staffordshire University and Staffordshire University Hospital who provide enrichment activities and open days throughout the year, exposing you to a variety of job opportunities and university level lab based work in the College's brand new Science Centre.
Throughout the course you will also become a strong independent learner with excellent analytical and evaluative skills. You'll be able to apply creativity and logic to solve problems, you'll enhance your independent thought and you'll develop your ability to discuss and communicate ideas.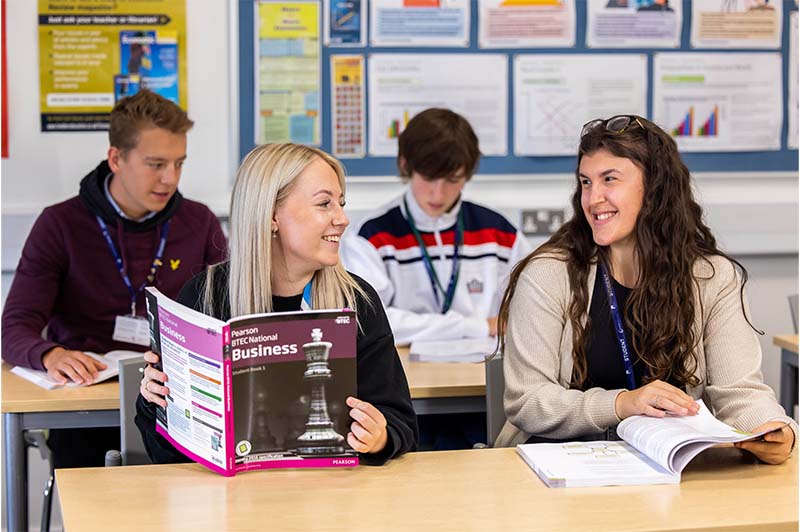 Similar

Courses
On this pathway