Course Overview
Not all types of crime are alike.
What different types of crime take place in our society? How do we decide what behaviour is criminal? What is the difference between criminal behaviour and deviance? How do we explain why people commit crime? What happens to those who commit a crime? Why and how do we punish people? What organisations do we have in our society to control criminality? These are the questions we will be asking on the Criminology (WJEC) course and researching to find the answers to key questions about crime and the behaviour of criminal defendants.
QUALIFICATIONS AVAILABLE
WJEC Diploma (equivalent to 1 A-Level)
Course Topics
Changing Awareness of Crime (Internal)
Criminological Theories (External)
Crime Scene to Courtroom (Internal)
Crime and Punishment (External)
I am going on to study Criminology at university after it became my favourite subject at A Level. Criminology interests me and throughout the course, I have enjoyed learning about criminological theories and their impact on society.
Hannah Kelly
Previously: Alleynes Academy
Studying: WJEC Criminology, BTEC Applied Psychology & A Level Dance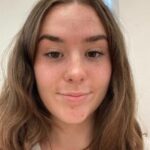 I dressed up as a barrister for the open event to engage people and interest them in Criminology. Criminology interests me as I enjoy learning about the topics and the way the course is taught is really engaging.
Eboney Scarsbrook
Previously: Endon High School
Studying: WJEC Criminology, A Level Psychology, A Level Sociology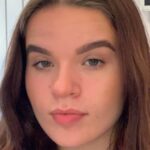 Course Features
The purpose of the WJEC Level 3 Applied Certificate in Criminology is to provide learners with an introduction to criminal justice and to give a context for learning within the social sciences sector.
Together with other relevant qualifications, such as A Level Law, Psychology and Sociology, it develops students' understanding to support their entry to higher education courses in the social science sector.
trips & visits
Take a look at some of the amazing trips and visits that our students have embarked on this year. These experiences have been carefully crafted to support their studies in this subject and we hope they will leave you inspired and motivated!
LIFE BEHIND BARS CONFERENCE IN BIRMINGHAM
Does prison really work? First and second-year Criminology students have been given the opportunity to attend the Life Behind Bars Conference in Birmingham this November. This outstanding conference includes speakers who have committed a range of offences: from manslaughter to treason!
Shrewsbury prison
Students are given the opportunity to visit Shrewsbury Prison for a guided tour and an escape room to see what the inside of a once working prison was like. This will allow students to consider whether prison does achieve the aim of rehabilitation or whether it is a purely punitive measure.
VISIT FROM A PROBATION OFFICER
Second year Criminology students were visited by a probation officer this year. This aimed to help students with their knowledge and understanding of the National Probation Service (NPS). As part of their Unit 4 external examination, students must have an understanding of the role of a probation officer and be able to evaluate how effective the NPS is in achieving social control.
ASSESSMENT
External Assessment: 50%
Internal Assessment: 50%
Awarding Body: WJEC
results
2022
Pass Rate – 100%
A*-C – 82.7%
High Grades (A*-B) – 51.9%
Where Courses Become Careers
Studying Criminology at the Sixth Form College also gives you the skills needed to progress to higher education to study criminology, law and forensic science. An understanding of criminology is relevant to many job roles within the criminal justice sector, social and probation work and sociology and psychology.
Students will get the chance to interact with different professionals within the criminal justice system, such as a solicitor from the Crown Prosecution Service, ex-police officers and probation officers whilst they study Criminology.
Make your mark
How SFC will help you to boost your CV by developing your skills and qualifications…
By taking this course you will develop key attributes and skills that employers and universities are looking for, this includes:
Problem Solving
Resilience Literacy
Independence
Lifelong Love of Learning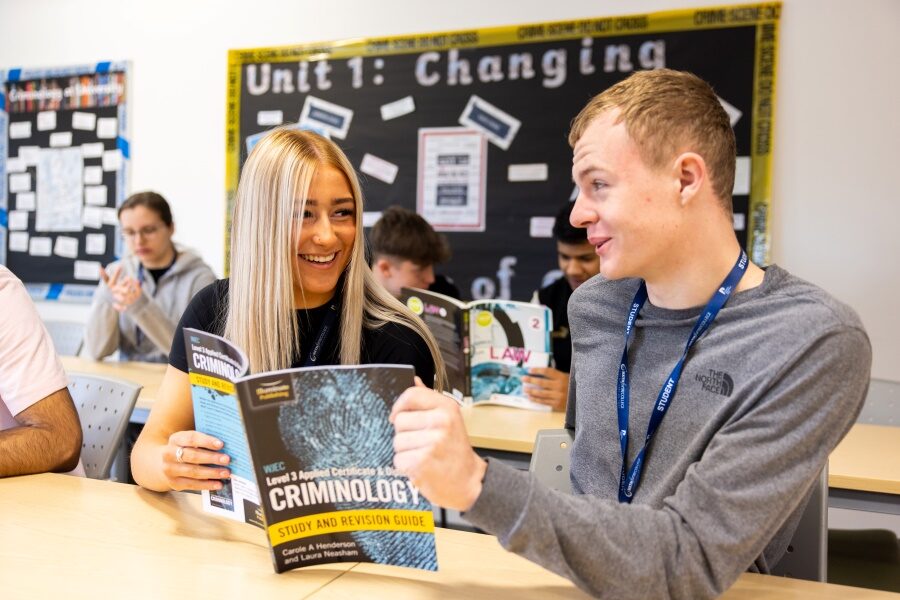 Similar

Courses
On this pathway