Course Overview
English Literature is an opening up of the world. Literature, like all art, seeks to express something of the human experience of life.
It is a means of finding out, for a moment, what it would be like to be someone else. Empathy is key. It is a way of transcending time and space: what would it be like to someone else, somewhere else, sometime else.
If you are ready to explore the big issues of life – love, death, God, meaning, relationships – then you are ready for English Literature
Course Topics
Shakespeare & Drama and Poetry Pre-1900
Hamlet – William Shakespeare (Year 1)
The Rime of the Ancient Mariner and other poems – Samuel Taylor Coleridge (Year 2)
A Doll's House – Henrik Ibsen (Year 2)
Comparative and Contextual Study – American Literature 1880-1940
The Great Gatsby – F Scott Fitzgerald (Year 1)
The Grapes of Wrath – John Steinbeck (Year 2)
Non-Exam Assessment/Coursework
The History Boys – Alan Bennett compared with The Prime of Miss Jean Brodie – Muriel Spark (Year 1)
Poems of W.H. Auden (Year 1)
Testimonials
The curriculum offered at the Sixth Form College appealed to me. The staff have been a great benefit to my learning and have enhanced my enjoyment. Spending a lot of time in the learning resource centre in a quiet space is great for independent study.
Alfie Haddon
Previously: Moorside High School
Studying: A Level Englis Literature, History and Politics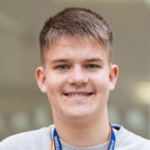 Course Features
People who read literature tend to be more empathetic.
Literature will expose you to worlds beyond your own.
Deep reading and analytical skills are essential and will be gained.
People need stories. We live by and in stories. Stories tell us who we are and why we are.
ASSESSMENT
Exams: 80%
Coursework: 20%
Awarding Body: OCR
Results
2022
Pass Rate – 98%
Grade A*-C – 85%
Where Courses Become Careers
English Literature is a traditional academic subject that is appealing to all highly rated Universities. A degree in English Literature is a pathway to many careers, not all directly associated with the subject- blue chip graduate traineeships, finance, law and the media as well as journalism, academia and creative writing.
Make your mark
How SFC will help you to boost your CV by developing your skills and qualifications…
Develop fluency and literacy, both in terms of writing and oracy.
Develop skills which will enable you to develop a lifelong interest and passion; most people who do Literature A Level will remember their texts their whole lives.
Resilience will be built. There is a lot of work involved and managing this is essential to success.
Similar

Courses
On this pathway