Course Overview
The Science Extended Diploma is a challenging and rewarding course, designed for students wanting context based learning in Biology, Chemistry and Physics.
This course is for people with a strong interest in Science who wish to follow careers in one of the many areas of Science. The course offers a fundamentally learner-centered approach and is majority coursework based, with some exam and externally assessed units.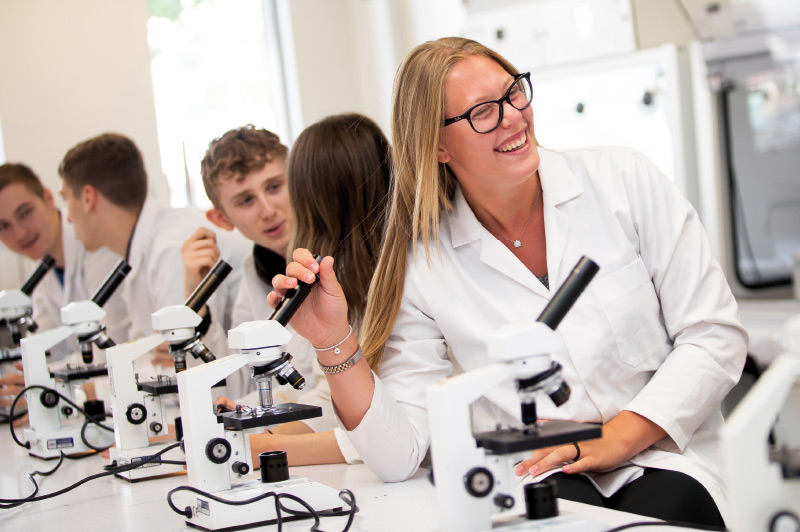 find your feet
Our study suite of Find Your Feet tasks have been designed to give you a taster of college life and the work involved by each subject. We recommend that you complete this work so that you know what to expect in September and to help you to choose the right subjects. There is no limit on how many subjects you can try, so find your feet in our study suite.
It is important to note that this work has no bearing on entry requirements and any work completed will not be marked or graded.
It is not required for you to bring any completed work with you in September, however, we would love for you to share your hard work.
It is a great platform to start your learning conversations with teaching staff and peers in September.
Download your (BTEC) Applied Science Biology Find Your Feet task here
Download your (BTEC) Applied Science Chemistry Find Your Feet task here
Download your (BTEC) Applied Science Physics Find Your Feet task here

QUALIFICATIONS AVAILABLE
BTEC Extended Diploma (equivalent to 3 A-Levels)
Course Topics
Compulsory Units – Year 1
 Principles and Applications of Science 1 (Exam)
 Practical Scientific Procedures and Techniques (Assignments)
 Science Investigation skills (External practical assessment)
 Laboratory Techniques and their Application (Assignments)
Optional Units – Year 1
 Biological Molecules and Metabolic Pathways (Assignments)
 Industrial Chemical Reactions (Assignments)
Compulsory Units – Year 2
Unit 5 – Principles and Application of Science II (Exam)
Unit 6 – Investigative project (Assignments)
Unit 7 – Contemporary issues in Science (External assessment)
Optional Units – Year 2
 Physiology of Human Body Systems (Assignments)
 Human Regulation and Reproduction (Assignments)
 Practical Chemical Analysis (Assignments)
 Medical Physics Application (Assignments)
Course Features
Throughout this course you will be assessed via portfolio/coursework.
Completing the Extended Diploma will allow you to gain a nationally recognised vocationally specific qualification to enter employment as a science technician or assistant practitioner, or to progress to Science qualifications in Higher Education.
You will understand the role of the scientist, their relationship with the scientific community and their responsibilities towards the community and the environment.
ASSESSMENT
Exam – 30%
Coursework – 70%
Awarding Body: Pearson Edexcel
results
100% pass rate last year
Almost 40% high grades last year
Where Courses Become Careers
A BTEC develops learners' skills and understanding of work within a vocational context and offers direct progression on to BTEC Higher National programmes, Foundation Degree Programmes, including Medicine, and First Degree Programmes. BTEC Nationals are recognised by higher education institutions and attract UCAS points.
Make your mark
How SFC will help you to boost your CV by developing your skills and qualifications…
You will develop a range of skills and techniques, personal qualities and attributes essential for successful performance in working life.
During this course you will acquire technical and employability skills, knowledge and understanding.