Course Overview
Analysing evidence from a crime scene; finding a cure for cancer; creating flavours for sweets or smells for perfume; restoring 500 year old paintings… None of these would be possible without Chemistry.
Chemistry is everywhere; it lies at the heart of all of these areas and many more.
If you love problem solving, hands on practical activities and have good analytical skills, then this is the course for you.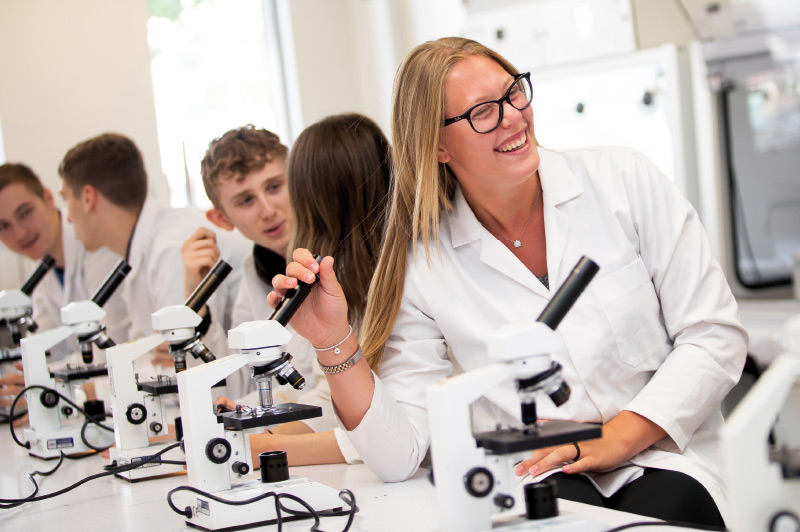 Find Your Feet
Our study suite of Find Your Feet tasks have been designed to give you a taster of college life and the work involved by each subject. We recommend that you complete this work so that you know what to expect in September and to help you to choose the right subjects. There is no limit on how many subjects you can try, so find your feet in our study suite.
It is important to note that this work has no bearing on entry requirements and any work completed will not be marked or graded.
It is not required for you to bring any completed work with you in September, however, we would love for you to share your hard work.
It is a great platform to start your learning conversations with teaching staff and peers in September.
Download your A Level Chemistry Find Your Feet task here
Course Topics
Practical Skills
Foundations in Chemistry
Periodic Table and Energy
Core Organic Chemistry
Physical Chemistry and Transition Elements
Organic Chemistry and Analysis
Course Features
Challenging but rewarding—Strong mathematical skills are needed to access and make progress in much of the A Level Chemistry syllabus. As such, students wishing to study A Level Chemistry must study A Level Maths or A Level Mats (Fast Track) alongside.
Not limiting—opens up progression routes in the fields of medicine, pharmacy, biochemistry and forensic science.
Hands on—lots of practical activities—at least one a week in fully equipped university labs.
Chemistry is a prized A level to have and is recognised as such by top universities
ASSESSMENT
Exams – 100% (3 exams)
Awarding Body: OCR (Spec A)
Results
96% pass rate for the last 2 years
20% Improvement in A*-C grades last year alone.
Where Courses Become Careers
Chemistry is an essential A Level to study for access to certain degree courses, such as Medicine, Veterinary Science and Dentistry.
The following are some of the other careers you could consider:
Archaeology, Biomolecular Research, Engineering, Finance, Forensic Science, Geology, Industrial Chemistry, Law, Pharmacology, Radiography.
Make your mark
How SFC will help you to boost your CV by developing your skills and qualifications…
Chemistry is interesting, challenging and rewarding. It will help you to develop many of the Stoke6th Graduate attributes and provide you with transferable skills to take with you in your chosen career.
You will have to work hard, have good attention to detail and enjoy solving problems.
The key skills which you will develop on this course include: resilience, problem solving, team work, communication and independence.