Course Overview
We are delighted to be delivering the first wave of T Level qualifications in Digital: Digital production, Design and Development from September 2020.
This is a two year course which has been developed in collaboration with employers and businesses to ensure that the content meets the needs of industry and prepares students for work. It is a level 3 qualification equivalent to 3 A Levels.
More than 200 businesses, including Fujitsu, Skanska, and GlaxoSmithKline as well as many small and medium sized firms, have helped design the course content to make sure young people taking T Levels are equipped with the knowledge and skills that employer's value.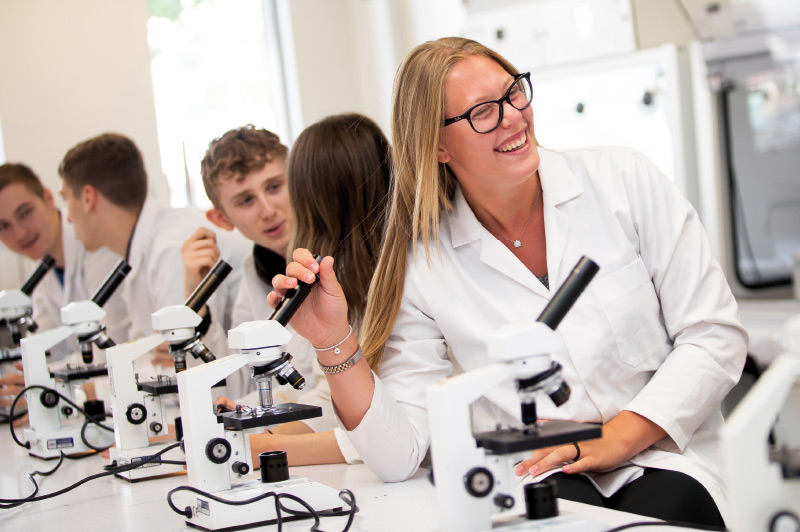 Find Your Feet 2020
Our study suite of Find Your Feet tasks have been designed to give you a taster of college life and the work involved by each subject. We recommend that you complete this work so that you know what to expect in September and to help you to choose the right subjects. There is no limit on how many subjects you can try, so find your feet in our study suite.
It is important to note that this work has no bearing on entry requirements and any work completed will not be marked or graded.
It is not required for you to bring any completed work with you in September, however, we would love for you to share your hard work.
It is a great platform to start your learning conversations with teaching staff and peers in September.
Download your T Level Digital Production, Design & Development Find Your Feet task here
Course Topics
Core theory, concepts and skills for an industry area
Specialist skills and knowledge for a career
An industry placement with an employer, for at least 45 days
A minimum standard in maths and English, if students have not already achieved them.
Students who pass all the elements of their T Level will get a nationally recognised certificate showing an overall grade of pass, merit or distinction. It will also set out the details of what students have achieved on the course.
Course Features
T Levels will be the technical equivalent to A levels.
Around 80% of time will be spent in the classroom with the remaining 20% being spent in an industry placement.
The T level will include an industry placement with an employer so that students can apply their learning in a real workplace environment.
Progression Routes
This qualification will primarily prepare students to move into a skilled job but can also lead to further technical qualifications, higher apprenticeships or a degree course.
ASSESSMENT
Work placement 20%
Technical qualification 80% (external assessment)
Awarding Body: Pearson Edexcel
Where Courses Become Careers
This qualification will primarily prepare students to move into a skilled job but can also lead to further technical qualifications, higher apprenticeships or a degree course.
Make your mark
How SFC will help you to boost your CV by developing your skills and qualifications…
Students taking the T Level Digital: Digital Production, Design and Development will gain the skills, knowledge and experience needed to progress to highly skilled em-ployment, higher level study or an apprenticeship.
The Stoke 6th Graduate Attributes will be developed and enhanced during this course. Resilience, independent of thought, communication skills, problem solving skills and the contribution of creative ideas will all be encouraged throughout the T Level Digital: Digital Production, Design and Development course.
industry placement
Industry placement is a mandatory part of the T Level course and full certification of the T Level will not be possible without completing the industry placement. The industry placement is substantially longer than the traditional work experience and so should be significantly beneficial to you and the employer. You are expected to gain substantial technical training as required through your industry placement.
Key features of the T Level Industry Placement:
You will spend 315 hours minimum in the workplace with an external employer.
The placement will be a good fit with your course, meaning you'll be able to learn the relevant technical skills for the digital sector, in this case, Software development.
A single placement of 315 hours can be split across two employers if needed.
Part-time working hours can be counted towards your placement hours if it is in the Digital /software development area.
Ways to attend Industry Placements
The time spent with employers can be carried out as:
Day release (I day a week),
A solid block (2-4 weeks)
Multiple smaller blocks (1-2 weeks)
A mixture of any of these models, depending on what works for the College, you and your employer.
A short work taster activity, of up to 35 hours relevant to Digital Production, Design and Development. This will be counted towards your total number of placement hours.
why complete a industry placement?
To pass the course (mandatory component)
To develop practical, technical and core employability
skills relevant to the digital sector such as:
Reflective evaluation
Communicating information clearly to the right audience.
Working with others in a collaborative manner
Developing software that could solve a problem
Creating an artefact such as an app etc.
Applying a logical approach to solving problems
Understanding software security
finding an employer
We encourage you to source your own placement, with an employer in software development. Once an employer has Indicated interest and commitment to take you on for the period of 315 hours, pass on the employer's details to the Work Experience Co-ordinator (Linda Morgan Don-Pedro) who will follow up to finalise the placement including health & safety checks.
It is important to start looking for employers as soon as possible to secure a place, as places are competitive.
assessment
To complete your placement, you must:
Work directly for an external employer
Demonstrate sufficient progress towards your learning goals as set by your employer
Complete the minimum number of hours and placement criteria
Maintain a booklet during your placement to log activities and hours worked
Get a positive performance appraisal from your employer at the end of the placement and receive a visit from the work experience co-ordinator.