Course Overview
The ability to make and create things for others to use and enjoy is a truly satisfying undertaking.
This course encourages individuality and original creative expression. You will study contemporary and historical Art & Design practices within a stimulating and challenging studio environment. We will teach you how to undertake complex and ambitious creative tasks covering a broad range of creative skills including Composition & Collage, Practical Experimentation. Sketchbook Presentation, "Colour Gesture Emotion", Design Process, Independent Study Skills, Illustration, Mixed Media, Printmaking, Fine Art, Textiles/Stitch, Graphics etc.
Art and Design students will also enjoy a programme of career and progression visits.
Course Topics
Drawing Skills
Printmaking
Photography
'Surface' Preparation
Visual Communication
Image Manipulation
Textiles, Texture and Surfaces
Testimonials
The atmosphere and vibe attracted me to the Art department to Sixth Form College, it's more relaxed, and you have more freedom to become independent.
Charlotte James
Previously: Orme Academy
Studying: A Level Art, Classical Civilisation & GCSE Maths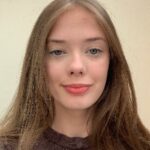 The art facilities are incredible and my number one priority. I have developed many skills, from time management to unbridled creativity.
Elias Davidson
Previously: Sir Thomas Boughey
Studying: A Level Art, Classical Civilisation & Media Studies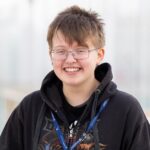 Course Features
Studying Art and Design encourages you to express your individuality, originality and personal expression.
The course allows you to study contemporary and historical art and design practices within a stimulating and challenging studio environment.
You will be taught how to undertake complex and ambitious creative tasks offering you the possibility of exploring a broad range of media techniques and processes.
During the course you will develop a broad based portfolio of work suitable for progression into higher education.
ASSESSMENT
Externally set assignment: 40%
Coursework: 60%
Awarding Body: AQA
Where Courses Become Careers
Employers are desperately looking for imaginative people with appropriate Art and Design skills. A career in art and design gives you the opportunity to creatively challenge, inform and inspire others, as well as enabling you to have a direct influence on your own living and working environment.
Successful completion of the course is an excellent platform for progression to a Foundation Course or University degree in Art and Design, and an essential step towards a career in a whole range of specialist areas including; Graphics, Fine Art, Illustration, Jewellery, Printmaking, Textiles/Surface Pattern, Photography, Fashion, Interior Design, Ceramic Design, Product Design, Crafts, Animation, Architecture and many others.
Make your mark
How SFC will help you to boost your CV by developing your skills and qualifications…
The course has a strong "skills" focus, developing not only the practical subject specific creative skills, but also the employability skills essential for progression into the Creative Industries e.g. problem solving, idea generation, literacy skills, presentation and communication skills, time management, team working and independent thinking skills.
The curriculum is designed to be challenging in order to build resilience and stretch students to achieve their full creative potential and enjoy their studies; fostering a lifelong love of learning.
Similar

Courses
On this pathway