Course Overview
This course is particularly aimed at students with an interest in the wide Media, from TV and film, to advertising and print media.
By taking this course you will develop good analytical skills as well as key practical skills in print production.
You will develop a broad knowledge and understanding of the media, how different products target audiences, and how different media products are constructed.
Course Topics
How media language and representations are communicated across:
Advertising & Marketing

Radio

TV Sitcom

Video Game

Music Video

Film Posters

Newspaper & Magazines 
Some of these topics will also require an analysis of industries and audiences.
Course Content
Exploring the media


This will explore the media through media language, representation, industries and audiences across 2 different print forms studied.

Understanding Forms and Products


This will assess your knowledge and understanding of TV Sitcom and Music Video in-depth focusing on media language, representation


industries and audiences. 

Coursework


This will require you to create an individual print-based film poster, and accompanying DVD cover, using your knowledge of media language
Course Features
You will develop the ability to analyse how camera, sound, editing and mise-en-scene are used to communicate meaning and representation.

You will enhance your critical thinking skills to consider the wider impact of media industries on audiences. 

You will learn how to create a media product using DSLR cameras and industry-standard software (Adobe Photoshop). 

There is a strong focus on progression skills such as creativity, imagination, research, analysis, extended writing skills and independent thinking skills.
ASSESSMENT
Coursework: 60%
Exam: 40%
Awarding Body: OCR
Where Courses Become Careers
GCSE Media provides a strong foundation for further progression to Media related courses and enhanced vocational and career pathways in the Creative Industries including:
Media Studies
Digital Games Design and Development
TV and Film Production
Graphic Design
Photography
Make your mark
How SFC will help you to boost your CV by developing your skills and qualifications…
Working both as individuals and as teams to plan and produce media to a high standard.
Studying a wide range of different media which will both challenge the way you think and provide entertainment.
Developing a new technical vocabulary and knowledge of specialist terms relevant to the media.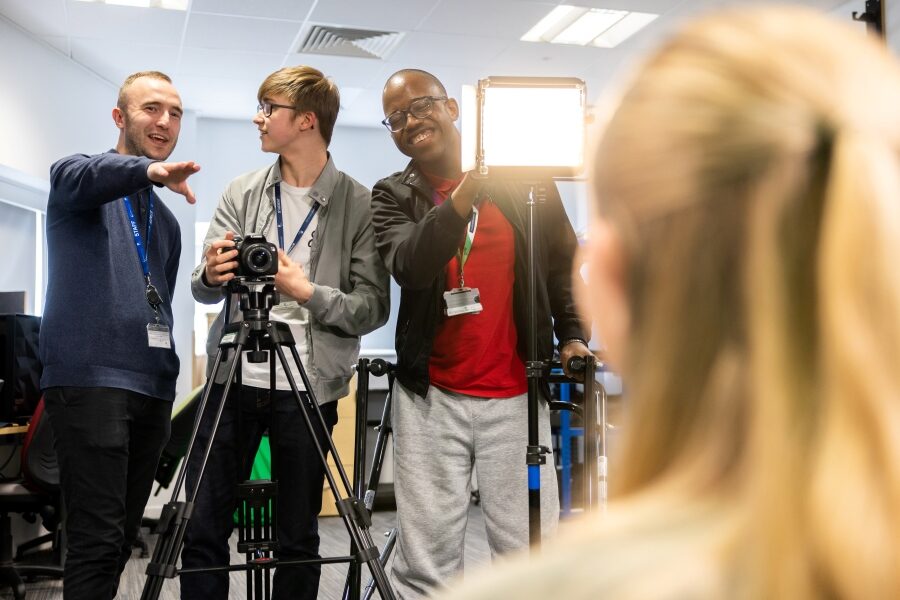 Similar

Courses
On this pathway