Media, Broadcast & Production (Content Creation)
T Level
Course Overview
Have you ever wondered who creates the video content for some of the big national and international companies? Are you interested in entering an exciting career within the creative screen industries? If so, look no further than our BRAND NEW T Level in Media, Broadcast and Production.

We are excited to be offering this 3 A Level equivalent which has been developed by a range of professionals who specialise in the field of Media, Broadcast and Production including the British Film Institute, ScreenSkills and leading creative universities.

This is a 2 year Level 3 course which is experience led and aims to prepare you for a range of careers in Content Creation and Production, for example TV/Film Director, Producer, Camera Operator, Researched, Lighting Technician, Editor.

In addition to your learning in college, you will also complete at least 315 hours (approximately 45 days) with an employer to make sure you have authentic experience of the workplace.
Course Topics
Throughout the course you will study the Core Content for this employment sector which includes:


The Creative Economy and Industries
Audience and Consumer Needs
Research Skills
Ideas Generation and Development
Legislation, Professionalism and Ethics
Branding and Brand Awareness
Understanding of the Production Process
You will also become fully trained in a range of audio/visual techniques and procedures, using a range of industry standard equipment and software, and be able to produce high quality and professional media products for a range of purposes and audiences.
Course Features
A T Level is a nationally recognised qualification that is worth the same number of UCAS points as 3 A levels.
You will develop both professional and technical skills through lessons and your a real world industry placement.
Access to professional standard kit including Blackmagic Cinema cameras and rigging equipment, Adobe Creative Suite, editing workstations, a range of lenses and professional sound recording equipment
This course provides you with the tools, skills and knowledge to progress into the ever expanding Film and High End TV Production Industries.
Hands on practical approach to classroom based learning, working as part of a team to pitch ideas, develop projects and deliver to deadlines.
ASSESSMENT
Technical Qualification: 80% (100% External Assessment)
Industry Placement: 20%
The core knowledge and understanding of the T Level is assessed through an examination. The core skills are assessed through the practical employer-set project.
Awarding Body: Pearson Edexcel
Where Courses Become Careers
Students who study Digital Film and Video Production can progress to a range of university and apprenticeship options. Past students have gone on to study at some of the top Film production university courses and onto training schemes with employers such as the BBC. The course covers all of the practical skills a future university or employer would be looking for.
Make your mark
How SFC will help you to boost your CV by developing your skills and qualifications…
You will learn and develop skills through the use of industry standard software and facilities, preparing you for both higher education and employment. You will study aspects of professional practice within the Media Production industry as part of the course. This will have a full understanding of the different job roles available to you in the film and TV industries, which could support you gaining employment at a junior level directly from College.
The majority of your projects will be live briefs allowing you to speak directly to a client whilst exploring aspects of the Production process.
All projects and assignments will focus on developing your own individual skills giving you the greatest opportunity to gain employability skills including:
Creativity
Time management
Communication skills
Organisational skills
Additional activities such as trips, visits and guest speakers will be arranged throughout the course. These will be project and progression focused. These are optional activities and fees will be charged. Details will be available from the course leader.
industry placement
Industry placement is a mandatory part of the T Level course and full certification of the T Level will not be possible without completing the industry placement. The industry placement is substantially longer than the traditional work experience and so should be significantly beneficial to you and the employer. You are expected to gain substantial technical training as required through your industry placement.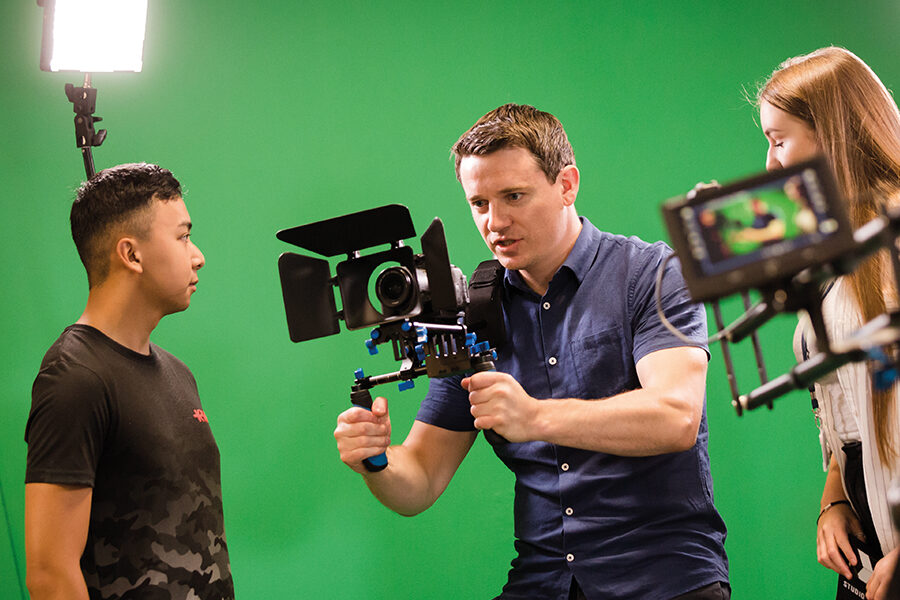 Similar

Courses
On this pathway