Course Overview
A Level Music is a traditional academic subject which is recognised by the top universities, including Oxbridge.
Class sizes are small meaning that learning can be tailored on a personal level.
The music department has a suite of iMacs, all with Logic Pro X and Sibelius. We also have a recording studio, where you can record your compositions and performances with the help of fellow music and music technology students. We have a variety of ensembles which we encourage students to take part in and lead.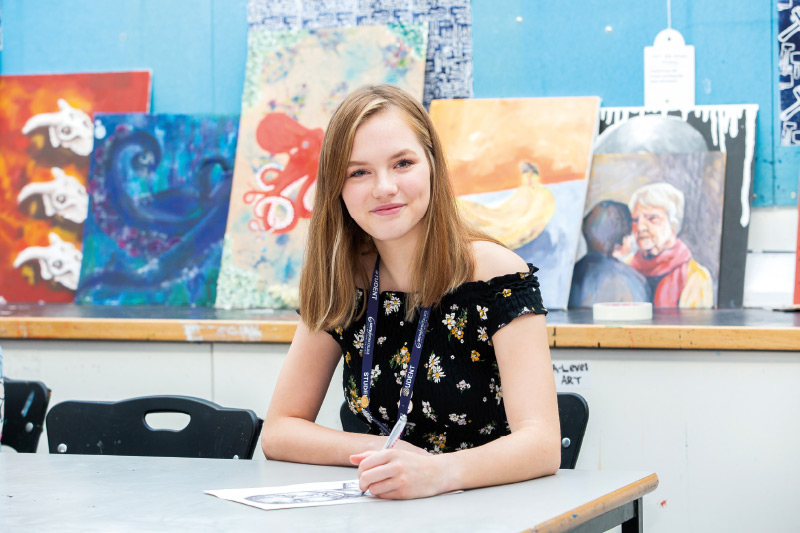 Find Your Feet
Our study suite of Find Your Feet tasks have been designed to give you a taster of college life and the work involved by each subject. We recommend that you complete this work so that you know what to expect in September and to help you to choose the right subjects. There is no limit on how many subjects you can try, so find your feet in our study suite.
It is important to note that this work has no bearing on entry requirements and any work completed will not be marked or graded.
It is not required for you to bring any completed work with you in September, however, we would love for you to share your hard work.
It is a great platform to start your learning conversations with teaching staff and peers in September.
Download your A Level Music Find Your Feet task here
Course Topics
Orchestral Music
Harmony
Composition
Debussy Nuages
Poulenc Trio for Oboe, Bassoon and Piano
Musical Theatre
Haydn – 'London' Symphony
Course Features
As well as studying the A Level course, you will have numerous opportunities to test your skills in various extra curricular projects.
We welcome student helpers and leadership in music, as well as providing opportunities to participate in local and national events.
ASSESSMENT
Exam – 40%
Performance – 35%
Composition – 25%
Awarding Body: Eduqas
Where Courses Become Careers
You may become a performer, teacher, music therapist, music publisher or any other music-related job. In addition, studying music can show to employers and higher education providers that you have a broad education and can work and communicate well with others as well as being a confident presenter.
Make your mark
How SFC will help you to boost your CV by developing your skills and qualifications…
You will learn to be resilient performers who enjoy learning and are willing to listen, learn and contribute to the development of ensemble and solo work.
You will develop independence of thought and, where appropriate, social interaction through rehearsal and development.
You will be able to contribute creative and innovative solutions to staging problems through numeracy and digital technology as well as through ICT.
You will develop sophisticated literacy and oracy skills through the exploration of a variety of language styles and deliveries.
You will learn to solve problems and present information logically whilst respecting and recognising other performers views, attitudes and cultures.
You will understand the importance and necessity for performers to attend punctually and meet deadlines.
By the end of the course, you will have developed the techniques and mindset that will develop a lifelong love of learning and allow you access to future education, training or employment in the field.