Course Overview
Are you passionate about contemporary dance? Do you have an ambition to work to have a professional career in the dance industry?
This 100% practical course focuses on the performance of contemporary dance aiming to develop the skills needed to bring this style of dance to life.
Contemporary dance technique is essential for anyone intending to work in choreography and performance, or wishing to progress to higher qualification levels. Many dance companies and choreographers use contemporary dance techniques in their works and this style is becoming increasingly more commercial.
The BTEC Dance (Contemporary) programme is designed to encourage you to develop as an independent, autonomous learner and grow into a confident, creative dance practitioner. You will develop skills, imagination and new ways of seeing combined with the versatility, creativity and drive to meet the challenges of the competitive and demanding dance profession of today.
QUALIFICATIONS AVAILABLE
BTEC Extended Certificate (equivalent to 1 A-Level)
Case Study
I have a strong passion for dance and it was useful to combine A Levels with BTEC Dance. I took part in student-led societies and particularly enjoyed being involved in the Musical Theatre Society, it provided me with many skills and a love for learning that I can use throughout my adult life. Having recently graduated from Performers College, Essex, I have a great career ahead of me and I have had the opportunity to share my passion for performing by delivering a workshop at the college.
Sarah Porter
Previously: St. Peter's Academy
Studying: A Level Geography, Maths, Religious Studies and BTEC Dance
Course Topics
Detailed knowledge of contemporary dance styles including Graham, Cunningham, Release and Contemporary Jazz through practical technique classes.
Development of technical and expressive contemporary dance skills.
Historical & intercultural understanding of the evolution of contemporary dance.
Detailed knowledge of choreography through a range of approaches (theatre, video, internet, site-specific, with community groups including a range of local primary schools)
Critical reflection skills through self, peer and group evaluation.
Course Features
Many performance opportunities at the Regent Theatre, The Victoria Hall and National Events and competitions.
The opportunity to develop dance teaching skills through the Primary School Enrichment Project in which small groups of BTEC Dance students work with a range of local Primary Schools.
Workshops with cutting edge professional dancers and choreographers who are currently working in the contemporary dance sector.
ASSESSMENT
Controlled Assessment: 33%
Coursework: 67%
Awarding Body: Pearson Edexcel
Where Courses Become Careers
This BTEC Dance (Contemporary) is suitable for anyone wanting to pursue the arts or dance in Higher Education, or as support for any future course requiring good communication and group work skills. Former students have gone onto study at Northern School of Contemporary Dance, London Studio Centre, Urdang and Bird College of Dance.
At Higher Education there are two distinct options:
Universities offered over 470 courses at 78 institutions for entry in 2014, including dance as a single subject, combined with a wide range of other subjects and courses with a focus on particular career routes, such as teaching and dance in the community.
Breaking the mould – There are many routes into a career in dance, and opportunities to demonstrate entrepreneurship and forge unique career pathways. Dance has provided a foundation for people to move into other art forms, particularly in circus, physical theatre, opera and digital technology. Careers include: performing, teaching, supporting professions, choreography.
Make your mark
How SFC will help you to boost your CV by developing your skills and qualifications…
Dance demands and develops Stoke6th Graduate Attributes such as creativity, resilience, communication and the ability to solve problems.
Dance is a powerful force and encourages learners to look at creativity in a different, more rounded way, as dance incorporates so much else – music, visual art, design, and perhaps most importantly the athletic dynamics and potential of the human body. The way that people are able to use such knowledge in all fields of later life, including business and academia, is incredibly important.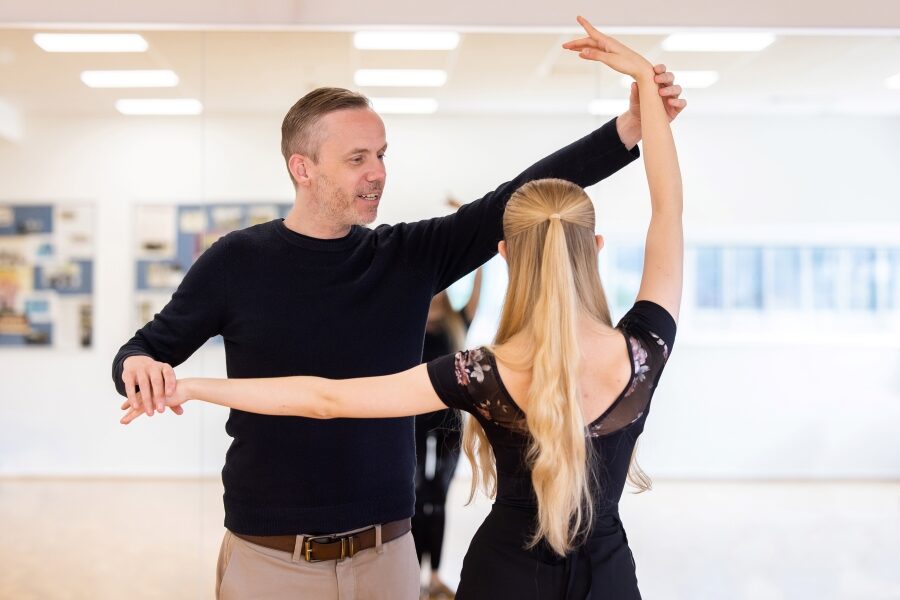 Similar

Courses
On this pathway