Course Overview
The Textiles A-level offers you the opportunity to explore a wide variety of materials, focusing specifically on the Textiles, Jewellery and Fashion routes into the design industry.
In Year 1, you will focus on your own personal skill development, experimenting with and exploring a wide range of processes. You will experiment with pattern cutting, pewter casting, laser cutting and fabric printing, as well as developing skills in more traditional approaches such as knitting, weaving and sewing. Alongside this skill development, you will learn the contextual, historical and contemporary influences of this exciting industry.
In Year 2, your focus turns to your own specific area of interest where you create your own textile or jewellery. This can be anything from creating your own garments, experimental textiles, wall hangings and jewellery.
The course offers access to a large workshop where you will have the opportunity to use laser cutting, fabric printing, dyes and of course sewing machines!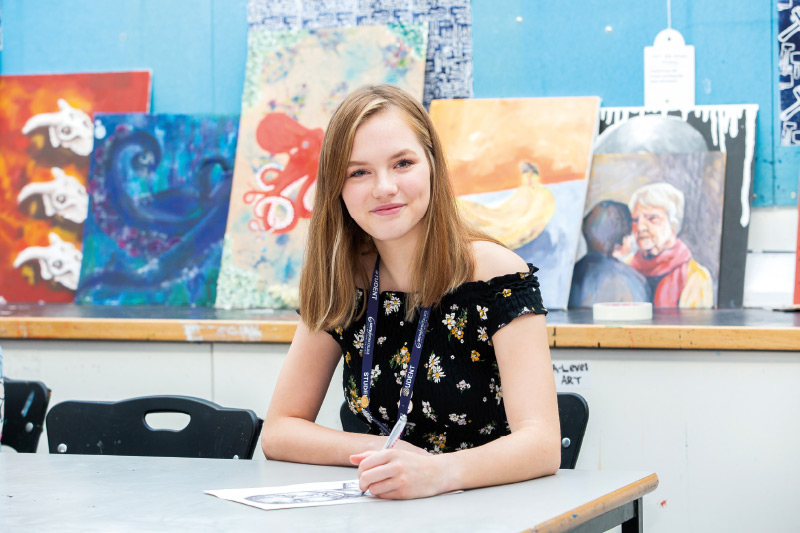 Course Topics
Materials, components and applications
Design for different applications and users
Design for sustainability
Design and market influence
Historical and contemporary developments
Different styles and genres
How images and artifacts relate to social, environmental, cultural and ethical contexts
Course Features
Textiles is an innovative course that uses a range of approaches to encourage you to work creatively.
The course allows you to experience what it is like to work on real life design projects and develop a product for a client.
Throughout the course you will take ownership of your project work and learning which will help
develop your skills.
ASSESSMENT
Coursework- 100% (40% externally set assignment)
Awarding Body: AQA
Where Courses Become Careers
There is an exciting future ahead of you studying this course! This can lead on to many university options and career paths including: fashion/textile design, surface pattern design, interior design, jewellery design and becoming a blacksmith or silversmith.Studying Biology at the Sixth Form College gives you the opportunity to pursue a general or a more specialised Biology degree at university or even enter the job market directly and train with an employer such as the NHS. Throughout the course you will develop life-long learning skills.
Make your mark
How SFC will help you to boost your CV by developing your skills and qualifications…
We encourage all students to take a broad view of design and develop your capacity to design and make products and appreciate the complex relationship between design, production and marketing. We work closely with local and national companies and universities on real-life design briefs including Staffordshire University and Derby University. This gives you real experience and develops your understanding of working for a client – an experience that will make you stand out to future employers.